Breaking: Three big banks raise prime lending rates following rate hike from Bank of Canad
Three big banks raise prime lending rates following rate hike from Bank of Canada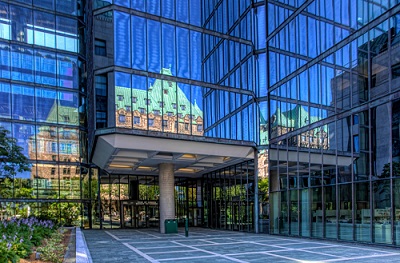 Three of Canada's biggest banks are boosting their prime lending rates by 25 basis points, following an interest rate hike from the central bank. Royal Bank of Canada (TSX:RY), the Bank of Montreal (TSX:BMO) and TD Bank (TSX:TD) all announced Wednesday they are increasing their prime rates to 2.95 per cent from 2.7 per cent, effective Thursday. The prime lending rate is the rate that banks use to set interest rates for variable-rate mortgages and other loans. The moves comes after the Bank of Canada raised its key interest rate for the first time in seven years on Wednesday to 0.75 per cent from 0.5 per cent.
http://www.mortgagebrokernews.ca/business-news/three-big-banks-raise-prime-lending-rates-following-rate-hike-from-bank-of-canada-228084.aspx

Back to Main News Page
Homeguard Funding Ltd.

Mortgage Brokers
Free Mortgage Evaluation
Thank You
Latest News

Be Aware of Mortgage Penalties

Think You Have Until Next Year for New Stress Tests? Thi...

ECONOMIC UPDATE WITH MICHAEL CAMPBELL NOVEMBER 2017
Customer Reviews
All Questions Answered



Hi Wayne, Thank you very much. Kokila Kamra was very helpful in finalizing the details and clarifying any concerns throughout this process. I would definately use Homeguard Funding again.

Regards,

Eesha Sharma
Honest & Forthright



My wife and I were recently required to renew our mortgage. Until now, we had typically gone the default, big bank route for this matter. This had never fully satisfied our needs or provided us with a feeling that we had personally been cared for. Enter Richard Mewhinney, who had previously assisted my brother in the same matter. He came highly recommended and, in the end, that was selling him short. He was honest and forthright and diligent in his pursuit of finding the best deal that fit us, rather than simply his bottom line. His process was refreshingly transparent and I can even venture so far as to say educational. We'll be working with Richard for our mortgage and financing needs going forward and to that affect, already have further such items in the works. We would wholeheartedly recommend Richard to others and, in fact, have already done so.

Josh and Krista G.
Unique Products That Save You Money



Hi Wayne, Lisa & I just wanted to drop you a line to tell you about the positive Encompass Home Warranty experience that we had recently. This home system warranty insurance came with the First National mortgage that we took out through Homeguard Funding Ltd.

This type of insurance is not something that Lisa & I would have sought out - we definitely would not have had such a policy if it had not come included with our mortgage. In fact, after the first year we seriously considered cancelling it - but I can tell you that we are very glad that we kept it.

Here is why...

In the middle of the night (3:00 AM) on December 19th something inside our boiler failed causing the system to overheat, which in turn caused some of our heating pipes to burst. We were home and immediately shut down the system to prevent further damage to the boiler and to the house from the water coming out of the system.

We reported the problem to Encompass via the toll free number on the morning of the 19th and they dispatched a technician to our house to assess the problem. The technicians arrived with small space heaters to use until the furnace could be accessed and repaired.

After a careful review of the cause of the failure - Encompass approved the repair and subsequently the technicians replaced the faulty components as well as the damaged heating pipes. They thoroughly tested the system and everything is now back up & running smoothly. They were very professional and had the system back up for us before the holidays. Even working through a Sunday before Christmas to get it done.

Out total cost for the repair was the $50.00 consultation fee (deductible) - which is incredible as the actual repair cost was approximately $8,500.00.

This cost would have been a major unplanned home expense for us just prior to Christmas...

Lisa & I just wanted to say thanks for providing such a service as part of your mortgage offerings - it certainly saved us a costly repair and we will be telling everyone we know about the experience that we had. We will be keeping the insurance going forward. Please pass along our comments to your contacts at First National. Thanks again & Lisa & I hope that you & your family have a great holiday season.

Lisa and Lee McLeod
Better Late Than Never



Hi Wayne, Living by the moto, 'Better Late Than Never', I just wanted to send you a quick note to say thank you for your help in securing us a new mortgage. It would have been easier for us to renew with our current lender, but I feel we did the right thing in switching over to a product (with MCAP) that better suits our needs and in the future.

Thanks for your help and attention. We received your thank you card in the mail a while back, but it's been a busy few months, and just hadn't had time to respond to it.

Thanks again!

PS - We have your cards and would gladly refer friends and family your way in the future.

Sandi and Neil
Personalized Service



I just wanted to take some time to tell you how impressed I am with Wes, and your company Homeguard Funding Ltd. I have been working with Wes since 2015. Wes has been able to help me emotionally, personally, and knowledgeably in regards to which services and products would work best for my circumstances.

I feel Wes has given me the same advice he would give a family member and has excellent interpersonal skills. Wes backs up his work and suggestions with hard facts and I trust and consider all suggestions he gives me. Thank you Wes for a wonderful experience. I will recommend you to any acquaintances now and in the future, knowing that they would be taken care of as I was.

Gina Nicholson
Tough Situation Turned Positive Thanks to Homeguard Funding



Every mortgage situation is different, and when every bank you speak to gives you the same feedback, it can be really discouraging. Everybody deserves a chance to fix the mistakes they have made and that's exactly what Grant did for me. He analyzed my situation and came up with a solution which made sense, and cost me the least amount in penalties. If it wasn't for his knowledge and genuine concern for my well being, I would not still have my home today.


I will recommend anybody I speak with about home ownership to Grant, because I think If he could help me out of my bind, he could make any mortgage experience better.

Thanks Grant, I look forward to working with you in the future!


Matt DeFranza



---
Personalized Service That Makes a Difference



We were so impressed with Wayne and his company. We'd had mortgages through a bank before, but by comparison working with Wayne was so much nicer. He gave us the personalized time and attention that we never got from a bank before. He made us feel like people and we knew he genuinely cared about us. He went above and beyond the call of duty and made our dream home come true.

If you're thinking about getting a mortgage through Wayne, I urge you to do it -- I'm sure you'll be as impressed as we were! Thank you Wayne. You're just the best!

Laura and James
Excellent Service!



We used Wes Sudsbury's services recently to re-mortgage two of our income properties and for another mortgage on our new house. Wes went above and beyond to ensure that we were getting the best rates and best products for our needs. He was very thorough in explaining everything with us and we really appreciated how he listened to us to understand our needs. Wes was very professional and accommodating with our busy schedules. We felt very comfortable with him from the first meeting and really enjoyed the entire process. Thanks Wes! We are thrilled with our new house and we really enjoyed working with you!

Jennifer & Casey, Barrie
Honest Service Delivered as Promised



If you are looking for a mortgage look no further than Homeguard Funding. Wayne Sudsbury, Wes Sudsbury, Sheilah Sudsbury and their team were able to get us exactly what we were looking for. Jacklyne and I were looking to find our dream home and Homeguard made it possible. They put our needs and budget first and worried about their bottom line second. They were honest and most of all delivered on everything they said they could do. If you're buying a home call HomeGuard like we did. We haven't been happier. ‪#‎thankshomeguard‬

Regan & Jacklyne Irvine
Referal Partners Use Us Personally



Wes Sudsbury helped us refinance a rental property and get financing for an upcoming demolition and build project! We have been very happy with the service, rates and communication. Being a Realtor, this has meant a lot to us. Keep up the great work guys!

Darcy Toombs, Newmarket Real Estate Broker
Repeat Clients Rely On Our Professionalism





Dear Wayne,

We wanted to follow-up with a heart-felt 'thank you' to you and the whole team at Homeguard for assisting us with the new mortgage on our family home.

The Homeguard application and approval process was quick and professional with the turnaround on the final mortgage being much faster than we expected. Everyone we dealt with, form your team at Homeguard, to the property appraiser and legal counsel were friendly, courteous and very professional.

We look forward to working with you at the end of our mortgage term and intend on bringing you all of our mortgage business in the future. We have enthusiastically recommended Homeguard to any of our friends who are in the market for a mortgage.

Kindest regards,

Stephen & Jennifer Brash



---
Highly Recommended



I used Wes Sudsbury as a mortgage broker to purchase a house with a closing date of April 30th. At the time I had an existing broker who was not getting me the best rate and was slow to respond to my questions why I was not getting the best rate. Wes was recommended to me by my friend who used his service and was happy with the service he received because one of the things Wes did for my friend was redo the paperwork a few days prior to closing because a lower rate was available.

I contacted Wes on a Friday after exchanging some information (which I had in full because I already went through one application) over the course of that evening and weekend, we agreed on a rate and signed the mortgage disclosure papers on Tuesday (or Wednesday, I don't recall). Although I don't generally demand people work during their evenings and weekend - because everyone deserves time off from their work - it was refreshing to get quick responses to my detailed questions, and get a mortgage sorted over a course of just under 3 business days.

I feel the information Wes provided directly answered all my questions, and was detailed such that there have been no surprises. He explained the mortgage product well, with information about things like applicable penalties.

I'd contact Wes again for my future mortgage needs.

Igor
Business to Business



As someone who has been involved in the financial industry in Canada near two decades, I have never seen and experienced such care, professionalism, knowledge, and ethics like I had with Mr. Wayne Sudsbury, the president of Homeguard Funding Ltd.

Beside the low mortgage interest rate and fees that Wayne secured for me, he stood up and made the deal work, when everyone thought that the deal was falling apart. He disclosed the facts to all the parties and lawyers who were involved and showed them the solution to rectify the problem.

Our companies worked together in the past few years and I was happy to see that we do follow the same principles in business., but this deal was a benchmark in our relationship. I thank you for everything you have done to make this deal happen, and looking forward to take our business to the next level. Many thanks to Wayne and the team at Homeguard Funding Ltd.

Regards,

Ben Katebian
Excellent Service



You exceeded my expectations! We received excellent service from Wayne! We highly recommend him - professional, courteous, timely and a pleasure to work with.

Wanda - Newmarket
First Time Home Buyer



As a first time home buyer, I was new to the world of real estate and the financial concepts behind the scenes. Wes really helped put the big picture into perspective for me as to what type of payments I would be looking at and what would be affordable to me in my situation. He promised me results and he did not disappoint. Wes prepared me for what I should expect and kept up daily communication using visuals and terminologies that were easily understandable, which made me feel confident in the work he was doing for me. The deal on my new home has now closed and I have not had any surprise costs or fees associated with my mortgage. Wes dedicated his time and resources to ensuring I was a happy customer, and indeed, I am. My experience with Homeguard Funding has been a smooth breeze and I thank you for your hard work and commitment Wes, I look forward to working with you again in the future!

Dylon
Very Belated Thanks



This is an incredibly belated but sincere thank you to you and your team for the great service you performed last May in securing an equity loan on my behalf. It truly was the reason my wife and I were able to eliminate the very niggling and stressful credit card debts we had accumulated, and more importantly created a repayment vehicle that has proven to be very comfortable to our lifestyle. Thanks again Wayne.

Frank Clarke
Praise From a Real Estate Lawyer



We are successfully funded and everything has been registered. Thanks for all your work on this file. Homeguard certainly exceeds the standards I am accustomed to in dealing with some other mortgage brokers. I hope our paths cross again.

Benjamin F. Real Estate Lawyer - Mississauga
Service That Makes a Difference



Believe a while back I mentioned how great Wayne Sudsbury of Homeguard Funding was and again I have to repeat myself. He is just incredible!!! Everything you would want in a person representing you in this situation. He constantly knocks my socks off in providing services that exceeds my expectations. I will be the first to tell you that I am very particular, do a fair bit of research on everything and have no tolerance for bad customer service. Therefore when I write this, it is worth checking out for yourself. Last year a co-worker of mine that lives in Leaside gave me his card and said he was her broker. I literally looked at her and said, are you kidding me? You leave all the way from where you live in Toronto and drove to Newmarket? She replied, he was recommended, and he pulled one out of the hat for her with the mortgage. So I gave him a call. Here I am as a repeat customer, singing the same praise. I have an appetite for sharing great experiences as other Cornell residents can benefit as well. Homeguard Funding Ltd 83 Dawson Manor Blvd. Newmarket, ON L3X 2H5 Phone: 905.895.1777 Wayne Sudsbury personal extension is 125.

B. Johnson
3rd Time Buyers Enjoy Our Expertise





Dear Wayne,

You make our dreams come true!

We want to express our thanks to you for securing yet another mortgage for us. We have enjoyed a business relationship with you for 7 years now and have settled into home #3. Your professionalism, expertise and going above and beyond the call of duty is what keeps us coming back. Whatever our needs may be, you make it happen. Your advice and guidance are also very much appreciated. Our thanks also go out to your loyal and dedicated team.

We look forward to continuing our business relationship with you into the indefinite future.

Many thanks for your Christmas cards over the years.

Best Wishes and Continued Success!


Ann and Milan



---
Stress Relieved with Quick Service



Just to let you all know that I wish I had heard of Grant Brown sooner! If I had, my family and I would not have had to endure 6 months of stress!

I contacted Grant Brown on July 6th, and we closed on July 31st. He got us a mortgage without any hassles. Instead of giving up on your clients and referring them to private lenders maybe you can refer them to Grant.


Ed & Lisa Hovinga



---
Thank you for sticking with us!





I got Ralph's phone number from a close friend who highly recommended him. The first time that I talked to him, I really didn't know what to expect, it was going to be our first time buying a home and we didn't have the first clue what to do.

Ralph's calming and friendly tone set me and my husband at ease right away. He had us fill out a financial report and then he said that we could go from there. At that time we really didn't have a good financial history, so Ralph told us exactly what we would need to do to clean it up.

I just want to say that I felt that Mr. Ralph Larin went above and beyond to get us into our first house, I mean he helped us for 3 years and who does that? He was the most professional person that I have ever had to deal with. I would like you to know that I would 100% recommend him and your company Homeguard Funding Ltd. to any and all my friends in the future.

When we are ready to upgrade we won't be making a move without him.

Thanks so much for making our first home so special.


Kathryn & Barry Lewis



---
Dreams to Reality





My brother and I had a vision to become real estate investors by purchasing several residential investment properties in Barrie close to Georgian College.

Our plan was to purchase good quality houses close to the college that could be easily rented to students. Once established, the properties would provide us with a steady flow of income and secure a nest egg for the future. At the same time, we would be providing quality accommodation to college students at an affordable price.

With a few assets and an excellent credit history, HomeGuard Funding Ltd. was able to secure several mortgage commitments on our behalf. Not only did we purchase and close three residential properties in six months, but Wayne and Beth were able to provide mortgages with amazing interest rates and terms. They worked with us providing advice and guidance. The level of service we received was excellent and closing days came with no last minute surprises.

Thanks to the dedicated people at HomeGuard, my brother and I have been able to accomplish some of our goals in life in a very short period of time.

Thank you Wayne and Beth for your high level of professional service and guidance over some of the stepping stones in our lives.




Scott Joyce and John Joyce



---